Welcome To Flirtin With The Mob
Looking for a funky party band that will have your guests dancing the night away, you're in the right place.
Listen to our audio and video clips on the menu above or click here.
To book us for your next event, click here.
We will be performing with Doo-Wop legend, J. T. Carter of The Crests on October 24th. Click here for NEWS RELEASE!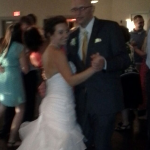 Hi guys!
"Sarah and I just wanted to tell you all thanks so much for everything on Saturday! You guys were GREAT!!! Our guests really enjoyed having the band and it just really made the night great…." More…
The Jacob's Wedding
"Wow! What a great night! We enjoyed and appreciated. This group has style and personality with a balance and blend of sound and good rhythmics. They are excellent instrumentalists…The band surprised us when several of their members came out playing their instruments and circled the dancers. They got a standing ovation!"
— B'nai B'rith Apartments – Allentown, PA —