Al has been playing trombone since 4th grade.  He graduated from Allen HS in '72
where he played in the band, the orchestra and the jazz band.
Al has been the leader of the Allentown Hobo Band for the past 32 years.  He also plays with the 4 sharps, a church quartet and the Barnhouse Boogie Band.  Over the years he has also played in the Allentown Pioneer Band and the Italian American Band.
Al is a retired Allentown firefighter.  His other passions include coaching girls fast pitch softball, which he has successfully done for many years.  Despite several health setbacks in recent years, Al is thankful to still be able to play horn and entertain thousands. (He's also the comic relief element in the Mob.)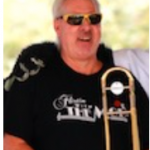 Al is married with 5 kids, 7 grandkids, and his oldest grandson also plays trombone!