Larry Meixner – (Band Leader) Trumpet & Vocals
Larry first started playing trumpet at the age of eight years old with the encouragement of his father "Skeeter" who was a mainstay in the Lehigh Valley for over 50 years with his polka bands. After leaving high school and starting a family at an early age, the music was sidelined for a few years.
But because it's in the blood, started playing again with local acts like John Bloys & the Boogie Stew, Wayne Smith's Roadkings, Off The Wall, Mike Dugan as part of the Rust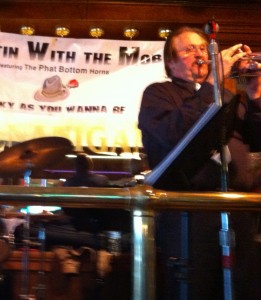 Belt Horns, The Mob featuring Frankie Falcone and the Chicago Horns and most recently from 1998-2007 with Flirtin Wit Mamma. He is also a member of the Allentown Hobo Band and was part of the horn section for an up and coming new CD release for the "Daddy Licks" band called Lucky Guy.
Larry's major hobby is Classic Cars.
An entrepreneur, he is president of Meixner Enterprises Inc. based in Coopersburg, PA. Larry is married and has three children and seven grandkids.
Click image to see slides.